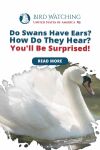 What's This Post About?
Have you ever seen a long-necked, gracefully big-footed bird that glides majestically on the surface of the water and flies with steady, rhythmic wing beats? If so, have you ever wondered if they have other inconspicuous striking features that you may not know of?
This post talks about the swans' hidden feature that enables them to listen to different sounds and respond to those sounds accordingly. In general, birds have excellent hearing, which allows them to hear a wider range of sounds than humans.
Just like any other bird, swans also have ears. But because their ears are hidden behind the feathers, you cannot see them easily. Hearing is a very strong and powerful sensory characteristic of swans. They can hear a much broader range of sounds than humans.

Why Can't We See Swan's Ears?
We can never see conventional ears on swans or any other bird for that matter. Why is that? Well, one explanation for that could be that swan's ears are small and hidden behind a thick layer of feathers that covers them well.

Swans have a powerful sense of hearing, but what's interesting about this whole situation is that you can never spot ears on swans.
Birds, unlike humans, do not have prominent external ears but what they do have is a small opening on either side of its head which helps them identify and perceive the source of a sound—whether it's coming from above them, below them, or from the side.
Another reason why you cannot see a swan's ear is that they are very small. The size and lack of external ears make it difficult to tell whether this bird has ears or not.
DID YOU KNOW?
Swans have an impeccable sense of hearing which is one of their strongest sensory attributes.
What Does A Swan's Ear Look Like?

Birds have ears, but not in the sense that you might imagine. Their ears are far more different than mammals and humans; instead of having a regular ear with outer, middle, and inner ear present, swans simply have an opening.
With an absence of outer ear structure, they have a funnel-like opening located on either side of their cheeks. These openings are covered with specialized auricular feathers that shield the ear while reducing the noise produced by wind.
For humans and mammals, the outer ear structure helps them absorb and diffract sound rays, which helps them determine where the sound is coming from, but in birds, since the structure is absent, they have another way of making it all work.
Birds have a unique ability to identify and locate where the sound is coming from. In addition, a study shows that a swan's head shape plays an essential role in the entire hearing process.
FUN FACT
Swans live for about 20 to 30 years in the wild and 30+ years in captivity.
Swan's Auditory Structure

They have a short external passage, also known as meatus, on the outermost part of the ear, which is typically hidden under specialized feathers called auricular present at the side of their head. Beneath the outermost membrane lies the cochlea of birds, a short bony tube within which lies another membrane known as basilar, where all the sensory structures are present.
Given below are the generalized parts of the swan's ear in order:
Outer ear canal
Tympanum

Stapes (columella)

Oval window

Cochlea

Saccule

Utricle

Semi-circle canals

A comparison of hearing range in different species:
| Species | Frequency Range (Hz) |
| --- | --- |
| Humans | 64-23000 |
| Wood pigeon | 50-11500 |
| Swan | 300-8000 |
| Rabbit | 360-42000 |
| Owl | 200-12000 |
| Rat | 200-76000 |
| Bat | 2000-110000 |
FUN FACT
A swan's ear structure shows a remarkable resemblance to a reptile's ear structure.
How Do Swans Use Their Ears?

Birds like swans have an exceptional hearing sense, but it is still not as good as mammals or humans. Although their ears are hidden well behind feathers, they do have excellent hearing. They can detect lower sounds which help them hear and respond to soft contact calls.
If it wasn't evident already, swans hear things differently than us. Within a broad spectrum of sounds and different frequencies, birds remember only absolute pitches, which is why they only hear shorter notes than humans.
Absolute pitch refers to a specific pitch that these birds pick on and process— humans and mammals do not do that; in fact, they have a relative pitch which refers to the process of hearing tunes in one octave and still recognizing it in a different tune or octave.

Absolute pitch allows the bird to listen to the calls of other swans and respond to them accordingly. In addition, they recognize harmonic variations across a spectrum, giving swans great flexibility in the calls and sounds they pick and respond to.
Are you intrigued by what's being talked about in this post? Do you want to look at a swan for yourself and see whether you can spot ears on it? Or do you want to draw a mental image of its ears in your head as you spot one?
If so, check out these cool binoculars that can help you have a closer look at these magnificent birds.

With only 560g weight, Adasion 12x42mm binoculars deliver 367ft/1000yds large field of view.

FUN FACT
Humans process sound in 1/20 bytes per second, whereas birds can tell about 1/200 bytes of sound per second.
Swans, like most birds, have a frequency range between 1000 Hz and 8000 Hz, which allows them to hear all sorts of calls, be it high pitched or low pitched, and respond to them accordingly. Their eardrums absorb different frequencies, which enables swans to identify where the sound is coming from.

Keep Reading!
When you read about swans, you may find different interesting things and useful information on them. Swans do not have a conventional outer ear, but that does not mean they do not have a powerful sense of hearing.
Although a proper ear structure is absent, the sound reception in these birds is in no way hindered. In fact, these birds respond to different sounds depending on where it's coming from and who's making it.
Hearing in swans is distinctive and depends on several factors. To enhance your knowledge about such unique facts, read this post to learn whether do geese really have teeth or not?

Most birds are born without teeth. Are geese one of them? Or do they have a set of perfectly aligned teeth? Read more to find out!
By Iñigo Navarro
Bird Watching USA
My name is Inigo and I'm the the founder of Bird Watching USA! I started Bird Watching with My father-in-law many years ago, and I've become an addict to watching these beautiful creatures. I've learnt so much over about bird watching over the years that I want to share with the world everything I know about them!