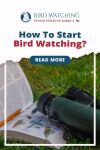 What's This Post About?
Bird watching is an enchantingly captivating endeavor. If you ask enthusiast bird watchers about their experience, they would feel thrilled in sharing their feelings. More than anything, they're likely to be fond of the beauty, serendipity, and peace brought about by the flamboyant species.
Even if you have a slight interest in birding and a desire to embark on the bird watching pursuit, know that many potential birders feel confused about the starting point of the birding spree.
Some people quite overwhelmingly wonder how anyone can gain expertise in a species and learn to identify the features promptly and detect the birds merely from their songs.
Bird watching is a fairly simple endeavor, requiring no technical expertise. You can start from the backyard of your home. All you need is a pair of binoculars, a field book and a camera to capture the exotic species. Attract birds into your premises by setting up a bird feeder and bird bath to begin observing.

How to Start Bird Watching?
Well, this proficiency isn't developed overnight. It comes with time. You can't expect to know and recognize the bird simply by its plumage or body shape in the initial stages. Once you begin your birding experience, you'll learn a lot by observing their serene flight, their foraging habits and degree of sociability.
Birdwatching essentially requires a degree of dedicated and diligent observation, patience to study and identify the birds and an impulsive willingness to keep exploring the wonders of nature. Your fondness for birds and your passion for exploration is sufficient to begin birdwatching. You're lucky that there are no stated rules and regulations for birding.
You can do it your way, spending the entire day from dawn to dusk observing the birds, or just once a day, twice a week, once a month, or perhaps as rarely as only during a vacation. Whatever way you choose to do it, you can't be wrong.

Its your call regarding the sort of bird watching you want to do. Whether you want to restrict yourself to the backyard and nearby parks, or you want to dredge the remotest of regions to discover the wild birds rarely found in the urbans.
You might only want to confine your observation to one species, sidelining the rest. You might watch the birds alone or take along your birding mate to make the experience even more fun. Simply do it your way!
Spending even a few minutes to watch the birds and listen to their dynamic songs is also sufficient. Wherever you choose to go, you'll be amused to see the numerous types of birdlife present everywhere.
Beginner's Guide to Birdwatching
Here's a quick guide to help you plunge into the bird watching hike and get started right away! You only need to have a few basic equipment, and you're ready to go. Don't worry, boarding on the bird watching journey won't cost you a fortune.

Where Should I Go to Watch Birds?
This is absolutely your choice. You may choose to watch birds flying around in your backyard or garden, or you might want to explore the diverse natural beauty perching in parks, or on the roadsides or parking lots.
If you wish to comprehensively watch the birds, you may visit the aviaries in your city. Or if you are up to visiting far off destinations like woodlands and forests, along riverbanks, cultivated fields and grasslands, you are likely to get a glimpse of an array of wild birds too.
For beginners, we recommend keeping it simple and discovering your local area first. Watch and identify the species flying around your house and workplace. Once you're accustomed to the birding experience, you can go further beyond in your bird hunt.

How Do I Choose the Right Place for Birding?
A number of public places including National Forests, State Parks and Refuges, National Wildlife refuges can offer as terrific destinations to have a spectacular birding experience. If you're in search for a specific species, refer to the checklist of species of the place, that often mention the common species around.

What Should I Focus on During Bird Watching?
As you begin to explore the plethora of conspicuous and bright creatures flying around, note down your observations. To make the noting down of information easier, we would recommend drafting a few questions - ranging from basic to more comprehensive.
Anytime you see a bird, fill the checklist, and compare your responses with those in the field guide to discover the species. With time and practice, it will gradually become easier for you to identify the birds of similar species, by carefully analyzing what we refer to as 'bird topography'.
Here are some essential questions to consider.
Where did I see this bird? (Habitat)
What was its size? (generally characterized as small, medium or large)
What was its size relative to other birds? (You might want to gauge your responses against a specific species such as robin)
What colors and patterns did its plumage have?
What colors did its belly, head and tail have?
Did you detect any peculiar feature? (Distinct feathering or color of beak, mark on the eye for e.g.)
What was the shape of the bird? (round, plump, elongated etc.)
What was the bird doing? (Flying, foraging, perching)
What was it eating?
What was the tune and voice of its song?
Were there other birds around? (Alone, in a pair, in a flock)
Once you are able to answer these questions, you can easily identify the bird from your field guide. If you're using a Smartphone App, the advanced feature of the app might identify the sound of the bird, and display the entire description right on your screen.
Avid bird enthusiasts also prefer capturing the images of the bird as the first step when they see it. Having a camera ready in hand or using your smartphone, take shots of the bird to record your observation. This will help you answer the list of questions above more accurately rather than answering them retrospectively.
When using your smartphone to capture images, often the quality of the picture might not be up to the mark. Smartphone cameras are designed with a specific zoom range and field of view beyond which the result of the image might turn out to be vague and obscure.
To combat this issue, connect a telescope to your smartphone. Digi scoping lets you enjoy a wider field of view with better magnification than a standard smartphone camera.

Click here to find a range of smartphone compatible telephoto lens kit.
Bird Identification Resources
Whether you want to take up bird watching as a leisure activity to enjoy the spectacular beauty of nature, or aspire to study the bird species in depth, you need to put your hands onto some bird identification resources.
Remember, no one is born with an innate ability to identify the birds' species and recognize them by their peculiar calls. Even professional birders have gained expertise in the field over a span of some time.
Guide Books
Since bird watching is gradually becoming quite prevalent, there are numerous field guides available in the market.
For beginners, we would recommend the basic, primary version comprising majorly of the most common local state birds. You can choose the layout and graphics of the book according to your preference, whether you want a detailed or a brief description of the bird species, or if you can better analyze with illustrations rather than actual images.
Once you've got your hands on to the basic version, you can now consider yourself skilled to use the more complex guide books, with many more species that you tend to encounter during your bird watching endeavor.
Smartphone Apps
On the application store of your smartphone, you'll find dozens of birding apps, many of which are essentially the virtual version of the printed field guides. A current trend for the bird enthusiasts, these encyclopedic apps help you identify the bird right away. This happens either by the detection of the bird's call or by filling in the relevant information.
These apps are ubiquitously used by birders to enrich their experience and constantly expand their knowledge about the incredible species.
Websites
To begin your birding experience, you might have surfed about it on the internet, and definitely were bombarded by the massive variety of resources available online. This world-wide activity to closely observe the gorgeous birds around, is practiced by a large group of people.
You can benefit from the great deal of information available online comprising of all the possible aspects of your birding spree.
These compendious online resources, employing numerous formats from blogs to news to research papers to finding guides to informational documents, can strikingly provide tremendous learning opportunities for both a novice and an experienced bird watcher.
Connecting to the Online Forums
To constantly enrich your knowledge about birds, while simultaneously learn from the experiences of others, having an interaction with fellow birding enthusiasts - whether direct or indirect - is vital.
Birding Associations
Consider joining the local, regional and international birding societies to learn more about your venture, as you constantly educate yourself about the latest birding tips, suggestions for the right gear and efficient bird identification techniques.
Online Forums
Join the many birding groups on social media apps and sign into the online birding portals. Enjoy a feeling of shared community vibes as you engage in active discussions with fellow birders, answer each other's queries and share meaningful knowledge and experiences with each other.
You're likely to find some mates in the process. The online platforms provide an opportunity for you to connect and interact with people having similar interests and sharing like-minded ideas. Chances are, you might come across a birding enthusiast near you, who can become your birding companion thereafter.
Bird watching with a friend or companion anyways is more fun than exploring it alone.
Essential Tips for A Successful Birding Experience
As we discussed earlier, there are no set rules and regulations to start bird watching. However, there are definitely some essential practices that can enrich your experience. As you begin your journey, keep the following field craft in mind.

Practice Patience and Calmness
As a bird enthusiast, you need to exhibit patience and persistence. Initially, you might not be able to track the record of any bird, as its rapid flight can leave you stunned. It only takes a few seconds for the birds to disappear into a far-off place. Or maybe your eagerness to closely observe the bird might scare it away. Be very cautious of your movements.
Carefully Examine Your Surroundings
Be as quiet and soft as you can so as not to disturb the birds. Examine the trees and shrubs carefully as the birds are likely to be hidden between the foliage.
Some might be perched onto the tree branches making them less visible while some birds, especially those having a plumage in hues of brown blend in with the tree branches so it might be difficult to spot them.
Be Alerted by The Sounds
During birding, you not only just have to carefully watch with your eyes, but focus on the sounds you hear around as well. Be extremely observant as you try to assess where the subtle feeding calls are emerging from.
The exotic species sing mesmerizing songs and each specie is known to have its peculiar call. Due to this distinctive trait, each bird can be identified by its songs. In fact, many a times, birds are detected merely by their chirping tunes as they remain hidden in the dense forests.
Choose the Right Time
To sight as many birds as possible, select a time when the birds are most active. Even though most birds are out and about flying around all day, they are the most active after Dawn.
Enjoy the delightful morning chorus as each bird sings its own unique song, filling the atmosphere with the most cheerful voices. Don't miss out this opportunity to watch as many of the charismatic species as possible.
Find Sources of Bird Attraction
Look out for sources of bird feeders, grasslands and gardens and shrubbery regions. Can you spot a water source around that is likely to entice the birds?
If the roadsides pavement is planted with a groove of trees, consider standing across it and use your binoculars to examine the many birds perched onto the twigs. Note their socializing habits and see if the particular bird you're observing is sitting alone, in a pair or part of a flock of many.
Dress Appropriately
Wear as comfortable clothing as possible while keeping the weather in mind. You don't want to end up shivering in cold or sweating top to bottom due to the extreme heat. This might prove a hindrance in your pleasant experience.
Wear subtle and dull colored clothing. You do not have to camouflage yourself in the surroundings but you also don't want to end up wearing strikingly bright colors making you quite conspicuous in the environment.
Remember, there are numerous birds which fly right away if they detect any movement towards or near them. We would recommend wearing hues of green, blue, brown. Additionally, don't wear any accessory or scarf that might get stuck in the twigs of the trees causing distraction for the birds.
Wear the Right Shoes
Wear the most comfortable pair of shoes that you have. We cannot stress on this enough especially when you are on a long bird watching expedition to far off places like mountainous terrains or wild life parks or beaches.
Wear a tough pair that is able to withstand the rugged terrains, mud puddles and rocks on the journey without causing you trouble.
Final Thoughts
Now that you've learned everything you need to know about your birdwatching journey, you can start off right away. Just keep in mind to remain quiet, observant and determined in your spree. Enjoy the peace and serenity brought about by observing the plethora of gorgeous species around.
Keep reading our other blogs to find out more about the essential bird watching gear.
By Iñigo Navarro
Bird Watching USA
My name is Inigo and I'm the the founder of Bird Watching USA! I started Bird Watching with My father-in-law many years ago, and I've become an addict to watching these beautiful creatures. I've learnt so much over about bird watching over the years that I want to share with the world everything I know about them!