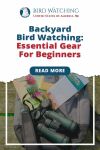 What's This Post About?
Bird watching is undoubtedly an awe-inspiring and captivating endeavor. If you have a keen interest in nature's spectacular creation, you might want to go beyond just observing the birds flying in the sky.
Fascinated by the diverse beauty of each species, both novice and pro bird watchers are constantly intrigued to enhance their knowledge about the plethora of birds. If you're a beginner, birdwatching can be done simply from the premises of your home, while sitting in your backyard or garden.
Or, you might want to satiate your curiosity by enjoying the exotic birds flying around in parks, roadsides, or aviaries. Your avid interest in learning about birds might even take you to the woodlands, forests, and far-off fields.
To step onto the bird-watching voyage, the essential beginner gear that you require for backyard bird-watching includes a field guide to identify the birds, optical devices such as binoculars or spotting scope, a smartphone or camera for photography, and a fully stocked backpack.
To further step up your birding game, you would need some additional equipment.
Bird Watching for Beginners - Essential Gear Checklist

For an amateur birdwatcher, the fundamental equipment comprising of a field guide, photography gear, and a pair of binoculars would be sufficient. This is practically all that you need to right away start with your bird-watching activity.
However, as you develop more interest in the activity, trying to delve into the intricacies of the various species of birds, you'd have a longer checklist to follow.
Depending on the sort of bird enthusiast you are, you need to prepare accordingly. Go through this comprehensive list to have a spectacular birding experience with all the essential gear prepared for your bird watching.
Essential Equipment for Beginners
Field Guide

Having a descriptive field guide in hand would help you identify the multitude of birds that you come across. A field guide is a reference book with numerous illustrations, along with information about the bird's appearance, comparative size, and even behavior. Choose your guide according to how in-depth you want to explore each bird species.
Here are a few tips for beginners that'll help you select the right field guide.
1. Begin from A Basic Version
We suggest using a simpler version with colorful illustrations, prominent features, and basic facts. Now whether you're planning to initiate your birding experience by watching out for birds in your garden or later venturing far off into the fields and forests to observe the exotic species, start with the basics. Try not to resort to an extremely complicated guide,
You don't want to be overwhelmed by the mountains of information as you read through the guide to identify the birds gliding right in front of your sight.
2. Choose Illustrations over Photos
Among the many adept bird watchers that we have come across, they prefer the illustrations of birds as a better guide than actual photos. There might be background distractions in the photos, and sometimes even a substandard picture quality. A detailed, meticulously designed illustration with different features of a bird accurately labeled will allow you to better identify a bird.
3. Size of the Guide
Whether you're a novice at bird watching or have been an avid bird watcher for years, the size of the guide you carry greatly impacts your convenience. As long as your birding experience is confined to your garden or backyard, you do not need to be wary of the size.
However, if you plan to go out and about for a thorough birding, make sure you carry a portable guide. Select a pocket-sized guide from the shelf so you don't have to struggle with handling your guide, capturing the perfect shots, and spotting the fast-flying birds, all at the same time.
If you plan to visit the higher mountains or the deciduous forests and woodlands, a weatherproof birding guide would be optimal. So even if it's raining, your notebook would stay protected.
Camera
You do not want to miss out on capturing spectacular shots of the exotic species that you come across during your bird spree. To click mesmerizing shots with outstanding quality, good photography gear is a requisite.
Whether you choose to photograph the species using a DSLR or your smartphone camera is your choice. But keep in mind that not any regular camera has the distinctively advanced specifications required for perfect bird photography.
This doesn't mean that you need exorbitantly expensive photography equipment, rather one that has the potential to capture sensationally gorgeous images of your birding experience.
If you're looking to purchase a camera for the bird-watching activity, note its dynamic features. The mechanical aspects of the camera including the self-focusing lens, shutter speed, aperture, need to be considered, as all these elements together can either result in an extraordinarily aesthetic image or a dull and wretched shot.
Binoculars
This is a piece of crucial equipment without which bird watching is practically impossible. The aim is to look at those tiny, exotic species closely, perching on top of the tree branches, or flying rapidly in the sky. The naked eye wouldn't allow you to observe all their features, that too without disturbing the birds.
This is a piece of crucial equipment without which bird watching is practically impossible. The aim is to look at those tiny, exotic species closely, perching on top of the tree branches, or flying rapidly in the sky. The naked eye wouldn't allow you to observe all their features, that too without disturbing the birds.
Let's look at how binoculars can give you a better sight.
1. Easily Portable
Not too big, you can easily fit your binoculars in your backpack in case you ever decide to go out rather than staying in your backyard. The handheld device otherwise is fairly practical to carry around at home when birdwatching.
2. Wider Field of Vision
Offering the ability to watch the target view properly, binoculars give an embracive look. With the wider view, you can easily track a flock of birds in flight.
3. Lesser Magnification
Binoculars offer a wider field of vision along with lesser magnification. This proves an advantage since you can avoid the instability and shakiness caused by the intense magnification.
Greater magnification, in comparison to lesser magnification, affects the overall lighting of your view, so what you see is a darker image with flawed colors.
Selecting the right binoculars would let you view a brighter and accurate image, so you can assess the enchanting features of the bird
4. Binocular Harness
For a hands-free experience, we recommend wearing a hands-free harness so you can carry the binoculars around. No chance of forgetting the gear on the bench - they will hang around with you.
Look out for the following qualities in a good binocular harness - it should be made from a firm fabric. Straps that are padded and have adjustable elastic to provide maximum comfort are optimal.
Spotting Scopes
If you're standing quite afar away from the subject, a spotting scope is what you need. A spotting scope is primarily a single lens device that allows you to view distant objects.
If you need to detect the birds at a long range, more than what binoculars can cover, the spotting scope would provide absolute viewing quality, capturing every minute detail.
For a flawless birding experience, in the case where you stand a few steps away, you need to have the right spotting scope. But how should you choose the right spotting scope?
There are several factors that you need to consider when purchasing your spotting scope. Quite naturally, the quality of the equipment is vastly determined by its price. Better equipment have more advanced features. Study the magnification, size of the lens as well as portability.
Make sure you select the easily portable one, can also fit in your backpack for later, and it's not too heavy to carry - you wouldn't want to end up with exhausted arms.
To make the right decision, we recommend taking a physical demonstration of each piece of equipment that is appealing to you and carry out comparisons between your choices.
Having a greater magnification than the normal binoculars, with the spotting scope, you get a better-quality view of distant objects.
On average, the equipment offers you a magnification capacity of 15-60 times. We would stringently recommend using a tripod stand to fix the scope at the right level. A slight knocking or shaking of the equipment can deteriorate the quality of the image.
Since the views given by the spotting scope are extremely vulnerable to movements, it causes instability in the view. Using a tripod to rigidly fix the spotting scope increases the chances of better bird viewing and clearer images.
Since the views given by the spotting scope are extremely vulnerable to movements, it causes instability in the view. Using a tripod to rigidly fix the spotting scope increases the chances of better bird viewing and clearer images.
Additional Bird Watching Gear
To facilitate your bird-watching experience, make use of the following items. Providing convenience as well as aiding in a more detailed and comprehensive understanding of the exotic features of the birds, add these birding gear to your checklist.
Backpack
A capacious yet compact backpack is what you need. For your birding experience, choose a bag with multiple pockets, preferably firmly padded to hold your camera (and camera lenses), binoculars, field book. You don't want to dig your hand deep inside to take out the camera lens rolling on the bottom.
An organized backpack with separate compartments holding all your birding gear would save you considerable time.
Birding Apps for Smartphones
Since smartphones have now become our indigenous mates, accompanying us everywhere that we go, the gadget can even help you enhance your birding experience.
Download the many birding apps available, so you wouldn't have to carry your birding guide everywhere you go. Instead, the phone app can serve as an ideal guide with proper illustrations and the relevant description.
An added perk offered by an app is its ability to identify the bird with its songs. During your exploring spree, the most apt birding apps recognize the chirping of the birds, even if it's not visible to you. By detecting the songs of the species, it presents the entire information regarding the species, helping you identify the bird.
The drawback of Smartphone App
Despite how convenient it is to use the app to amplify your experience, there is a drawback. If you're using your smartphone for photography purposes as well, it might be difficult to juggle between the app and the camera.
If you only have access to the smartphone, you need to devise a way to record your observations as well as simultaneously assess the features of the bird right away or retrospectively identify it later.
Nesting Boxes with Cameras
Ever wondered how to capture and intricately observe the serenely phenomenal activities taking place inside the nest?
With the advancements in technology, you can track the nesting, breeding, hatching, and feeding procedures through an inbuilt camera inside the nests. Avidly experienced birders have used this strategy to explore the fundamental milestones in a bird's life.
Many updated versions of bird boxes now come with an inbuilt camera feature, so you can observe the life of the bird on your TV screens or your smartphones. The camera kit is an inclusive accessory in some birding nest boxes while in others, a separate purchase needs to be made.
In the latter case, you need to make sure the nesting box is sufficiently large enough to fit in the camera without making it too congested for the birds to dwell in and causing an obstruction for them.
Essential Aspects to Consider for Cameras
For the nesting bird boxes to capture good quality images, light needs to penetrate the box. During the daytime, this should not be an issue since most purpose-made bird boxes have a hole in the side to allow light to pass through.
If no such hole is present, you need to make arrangements for the light to let in, or else the camera would be unable to capture a seamless image.
During the nighttime, when there is no natural light, a camera with night vision is preferable. Such advanced featured cameras use infra-red rays, whose non-interference does not affect the activity of the birds. This essentially allows you to watch what's happening in the nest even with extremely limited light.
Wired or Wireless connection
Depending on your convenience and feasibility, you can either connect a wireless camera with Wi-Fi signals to connect to your device or a wired one with a router attached with a cable.
If you're in a dilemma to choose the right camera, assess the efficiency of each.
A camera with a tangible wired connection provides more vigorous signals to the device, so you don't have to fret about the quality and consistency of your internet connection, with relatively lower chances of the recording buffering.

However, a wireless camera saves you the hassle of dealing with the unappealing cables running between the birds' nest and the smart device. These wires can also be an obstruction for the birds. This means that you have greater flexibility in deciding where to place the nest - and where to view it from. You do not get this added benefit with a wired connection since it restricts the portability of the nest, directing the premises where it can be set.
Your final purchase decision may depend on your affordability. Wireless camera options are relatively pricier than wired ones.
Ramping Up Your Birding with These Useful Gadgets

If you're a beginner, you might want to up your birding game with a few of these splurging birding gears. Apart from the few essentials that we've stated above, which are fundamental for comprehensive birding, these birding gear would simply make your birding experience more mesmerizing. In actuality, there is no requirement to have them in hand for your birding spree.
Smartphone Compatible Telephoto Lens
Every new version of a smartphone offers a much more refined version of the camera with enhanced specifications, many times, producing better results than a camera. If you choose to use your smartphone as your photography gadget, we strongly recommend investing in a telephoto lens kit.
Quite meager in size, you can easily fit the device in your pocket. The magnification and zoom specifications of the smartphone camera for very far objects may not be paramount, so attaching a lens with advanced features can result in significant increments in your image quality.
Trail Cameras
Any time a bird flies in your backyard in your absence, this small piece of audio and video equipment, peculiarly designed to detect motion, would be activated to record the activities happening around.
A piece of excellent birding equipment for both novice and professional birders, this trail camera helps to meticulously analyze birds in flight, the foraging habits of those feeding in the bird feeder, and record the dynamic tunes of birds singing on the trees.
Install the trail camera in your backyard or your garden, and the camera would record the activity of the birds whenever it senses motion. This means you can keep an eye on which birds are visiting your backyard even in your absence.
Smartphone Compatible Monocular
A miniature version of a spotting scope, with a single lens, the optical device can be connected to your smartphone camera with its specific holder. The monocular helps to provide a wider field view with a better magnification than your smartphone camera. Run a quick setup on your smartphone and the Digiscoping device would be ready to use to observe and identify the birds.
Water Wiggler
Do you know that birds are astoundingly attracted to moving water, either flowing or rippling? If you've been keeping a small container in your backyard to feed water to the birds, you might note that the birds are not quite enticed by it.
Generally, birds do not like stagnant water - rather it's likely to attract fungus and insects instead. To attract a diversity of birds in your backyard, apart from growing shrubbery and placing bird feeders, as a bird enthusiast, you would require a water wiggler for their birdbath to tempt them into your backyard.
You can find both solar-powered and battery-operated water wigglers.
Final Thoughts
If you're a beginner or a hardcore bird spotter, the pursuit of bird watching is a mesmerizingly relaxing recreational activity. If you're looking to start your bird-watching experience or enrich your bird-watching experience, use these essential gears and enjoy the enchanting species around.
By Iñigo Navarro
Bird Watching USA
My name is Inigo and I'm the the founder of Bird Watching USA! I started Bird Watching with My father-in-law many years ago, and I've become an addict to watching these beautiful creatures. I've learnt so much over about bird watching over the years that I want to share with the world everything I know about them!