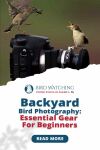 What's This Post About?

You probably want to capture a flawless shot of a bird that regularly visits your backyard but the bird would just not let you. There's a bird that keeps coming back to your lawn while not making anyone else lucky in the neighborhood to catch its sight. How would you prove to them that it was right there?
It must have been really hard for you to click a single good picture of the birds that regularly come over in your backyard; for they fly away right when you are about to make a move.
If you are fond of birds and want to click their photos as a wildlife photographer does, then here are a couple of things you can do to get a perfect click.
They Key Tricks

To be able to click a proper, high-quality picture, you need to first get the star of the night, to the shooting scene. Not to sound dramatic, but your backyard visitor is a star if it appears only for a nanosecond and vanishes into thin air.
Create A Picture-Perfect Scene
Make your backyard a photo studio for the birds. Add some aesthetic outdoor decor. Keep it clean and green. Add more plants including the native species. A small synthetic pond would be a great invitation to the colorful feathered creatures.
Appeal Through Meal
The best way to have them flying to your backyard is to entice them with a meal. For that, a feeder can do you unimaginable good.
Which Feeder Is the Right Feeder?
Select a feeder that does not only invite birds to your backyard but also adds value to the outdoor decor. Ensure to choose a vibrant feeder that has perches to let the birds rest on it. You can find a variety of aesthetic bird feeders on Amazon to add to your scene.
What's Required More to The Scenery?

Apart from the ideas mentioned above, you will need some essential birding gears and gadgets to click high-quality photos in the backyard that you've just turned into a natural studio.
To help you narrow down your search, below is a list of gears that can do wonders for your backyard bird photography sessions.
What's on the List?
Since you are reading this very post, therefore it is clear that you are a newbie in the world of bird photography. You may doubt if you'd be able to get a good picture of a bird after doing so much to enhance your backyard. Nonetheless, these birding gears and gadgets will help you to get various types of pictures.

Cameras
How are you going to get a shot without a camera? Do you know which one is a perfect choice for your photography expedition? There are various types of cameras. For making this experience worthwhile, we have narrowed down couple of types of cameras.
1. DSLR

Known as the Digital Single Lens Reflex, it is used by professionals to click high-resolution photographs. The dynamics involve light striking a prism that flips as the light hits it, allowing it to reach the image sensor, creating an image on the viewfinder.
To narrow down your choice as to which DSLR would do justice to your backyard bird photography, below is a list of available DSLRs on Amazon with reduced prices and top ratings.
Ratings: 5 out of 5
Price: $2296
Description: The rating says it all. Allows the user to take a high-definition motionless picture. It comes with a rechargeable lithium-ion battery with a battery charger and cable. Its ISO is expandable to 204,800. The 64GB memory chip allows you to take multiple pictures.
Nikon D5600 DX-Format Digital SLR NIKKOR 18-55mm
Ratings: 4.8 out of 5
Price: $796.95
Brand: Nikon
Description: Wifi and Bluetooth connectivity enables the camera to connect to various devices. This model has multiple shooting modes that enable users to click a clear, high-resolution photo.
2. Mirrorless Camera
A mirrorless camera allows light to pass directly through the lens to create an image on the rear- screen without a prism. Unlike DSLR, it is lighter in weight and quite cheaper. The best mirrorless camera available on Amazon is Sony A6100.
Ratings: 4.8 out of 5
Price: $999.95
Brand: Sony
Description: It is claimed to be the world's fastest real-time object tracking equipment. The camera has a touchscreen that provides continuous, soft, and smooth focus tracking. The external microphones enable users to shoot video with high-quality sound. The various customization options allow users to take customized photos.
Smartphones are more likely to fit your list if you are a beginner. You may however doubt if it can get you a professional appearing image or not. Surprisingly, as a newbie in bird photography, smartphones are more likely to do you wonders than a heavyweight DSLR or an expensive mirrorless camera.
Smartphones do not only enable you to capture high-resolution pictures but also provide you with a wide range of photography modes and filters. These filters and various modes help to take pictures and create a profound image of birds in your backyard.
Apart from being lighter in weight, cell phones are packed with functions that allow you to take a motion-free, stabilized image of the ever-moving birds. If you are not sure which camera phone would best suited for backyard bird photography then you're backed up by the best options below.
Samsung Galaxy S21 Ultra 5G
Ratings: 4.5 out of 5
Price: $999.99
Brand: Samsung
Description: The dual-lens combo lets you take 100x zoom photos with high resolution. You can pinch to zoom in and observe the tiniest detail in the picture. This phone allows you to take unlimited photographs with 128 GB storage capacity. It provides a wide range of shooting modes to make photography more personalized.
Ratings: 4.4 out of 5
Price: $999
Brand: Apple
Description: Consists of an A 14 bionic chip that makes it the fastest phone ever. A wide range of shooting modes to enable you to have more customized photography. The camera result beats that of an average DSLR camera. 4k Dolby vision HDR recording with a night vision true-depth camera allows you to take high-dimension photos. With a memory storage of 128 GB, the number of photos you can take is vast.
3. Trail Camera
You would not be hanging around all the time to see if a bird has shown up. Trail cameras are interesting equipment that sense motion and click the images of birds and animals in their habitat upon sensing motion.
They can stay stagnant for several months until they sense a motion. These can be a good choice for backyard bird photography. But how would you know which trail camera is the best? The following trail cameras can be a good addition to your natural studio — the backyard.
Spypoint Wireless Trail Game Camera
Ratings: 4 out of 5
Price: $129
Brand: Spypoint
Description: The smallest yet the smartest cellular trail camera works with an 8 AA battery that when clicks a photo, appears on your smartphone. The 16 GB micro-SD chip enables the users to keep multiple photos saved.
Wildgame Innovations Terra IR Trail Camera
Ratings: 4.4 out of 5
Price: $40
Brand: Wildgame
Description: It is durable and can last for years. This camera is an infrared 10 mp device that allows video shooting for up to 30 seconds. It can be installed to take pictures of rapidly moving birds. Take high-quality pictures in the night with this bird-spy camera.
4. Monoculars
You might be thinking that binoculars must be on the top of the list. However, the monocular is much better. While binoculars may sound old school, this telescopic lens allows you to magnify your object by passing through various lenses of the prism.
This lightweight refractive telescope spares you from wearing a harness on your neck. Instead, it is attached to your camera. If you are unsure which monocular would be the best for you then you should try the following top-rated binoculars, easily available on Amazon.
VIVRE Monocular Telescope
Ratings: 4.3 out of 5
Price: $79.99
Description: 12x high power magnification allows users to enhance the image view of the object to better understand the angle with which to click a perfect photo. The dust-proof and water-proof scope allow you to capture photos in the rain. It comes with a wide range of accessories making it compatible with your cell phone. Accessories include a tripod, cell phone holder, and remote control.
12x50 High Definition Monocular
Brand: Safiman
Price: $64.99
Description: The multifunctional monocular comes with a smartphone holder and a tripod. Weighs 0.5 pounds and is compatible with any smartphone. Waterproof makes it durable and the rubber armor with stripes makes gripping easier. Apart from being waterproof, it is designed to be used in areas where there's a fog that hinders the vision. The objective diameter is about 42 millimeters.
5. Teleconverters
Also known as extenders, teleconverters allow you to take a high-resolution, stabilized image. It is a secondary lens attached to your camera to enhance the picture quality by expanding the photographic area.
It is a diverging lens that creates a virtual object — the image which is formed farther from the foul length. Thus, teleconverters enlarge the virtual object to give a more magnified and clearer, high-definition image.
The best extenders you can find today are listed below. If you are looking for one, then these are the top-rated extenders available on Amazon.
Nikon D3100 2x Teleconverter
Ratings: 4.4 out of 5
Price: $229
Brand: Vivitar
Description: The glass of the lens is an extra dispersion, one that helps to cut down the chromatic anomaly. It allows the users to get a clean shot.
6. Tripods
You cannot just stay there holding your camera waiting for the right moment to capture your birdie's shot. Even if your smartphone is the equipment for your photoshoot, holding it for long will exhaust your arm.
Switch to tripods to keep your equipment steady. Use lightweight tripods so that it is easy for you to carry them around. Here are a few items available on Amazon which are not only top-rated but also astounding to match your photographic equipment.
VANGUARD VEO3GO235CB Travel Tripod
Ratings: 4.5 out of 5
Price: $199
Brand: Vanguard
Description: From a length of 13 inches to 54 inches, this tripod is adjustable to your desired length. Three legs with spiked feet allow a firm grip on the ground. It can be connected to a smartphone connector and has a Bluetooth remote to allow its monopod leg to act as a selfie stick.
BARSKA Digital Tripod with Carrying Case
Ratings: 4.4 out of 5
Price: $22.39
Brand: Barska
Description: Its maximum height extends to 40 inches. It allows you to make explicit straight and upright adjustments using a tilt handle. It has extra thick legs to ensure a firm grip. It comes with a carrying case to enable users to have a hassle-free experience.
Orion S378 Paragon HD-F2 Heavy Duty
Ratings: 4.6 out of 5
Price: $99
Brand: Orion
Description: The heavy-duty tripod provides support not only to mobile phones and cameras but also to a spotting scope, binoculars, telescopes, etc. Its length extends up to 72 inches while weighs 3200 grams only.
7. Smartphone Holder
Be it a monocular or a spotting scope, you need something to hold your smartphone attached to it. Smartphone holders can easily be found all over the internet. Your search is narrowed down to this Universal Mount Adaptor and Holder.
iShot Pro Secure Grip Metal iPhone Universal Smartphone Holder
Ratings: 4.4 out of 5
Price: $29.99
Brand: iShot Pro
Description: This holder has a universal capacity that fits any smartphone easily. The matte finish gives it an elegant look with a metal body, strong enough to keep your phone in place.
The Shot's Ready! (Conclusion)

Birds are a beautiful gift from nature. In difficult times when you cannot have many visitors, these adorable creatures keep you company. With suitable gears and gadgets, you can capture priceless moments in a frame to keep those lovely memories alive till eternity.
By Iñigo Navarro
Bird Watching USA
My name is Inigo and I'm the the founder of Bird Watching USA! I started Bird Watching with My father-in-law many years ago, and I've become an addict to watching these beautiful creatures. I've learnt so much over about bird watching over the years that I want to share with the world everything I know about them!