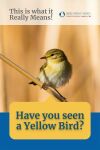 WHAT'S THIS POST ABOUT?
It is always a pleasant occurrence seeing a bright-colored bird nesting in nature or flying across the sky. However, in many cultures, the color of a bird can symbolize a lot of things such as good or bad fate. This is because ancient cultures have held birds to be emissaries from the gods. Thus, stories and symbols have found their way into our daily life so that whenever we come across a bright-colored bird, it can signify something important.  
Coming across a yellow-colored bird can mean a lot of things universally but the commonly held belief is that a yellow bird symbolizes joy and a positive outlook on life. It serves as a reminder that one must be grateful for the good days and must remain patient and positive during the tough ones. 
IS SYMBOLISM REAL?
Symbolism is a universal age-old activity of the human imagination.
Symbolism is the use of symbols to signify ideas that differ from their literal meaning. Thus, everyday words and objects can often have more than a single meaning. These ordinary words objects evolve in meaning and associated significance over centuries, making them symbols of something besides their literal meaning. 
Similarly, the associated significance made with certain birds is based on their behavior, appearance, and habitat. For example, doves are seen as a symbol of peace while ravens represent death and despair. 
However, these associations made by people are rarely ever based on empirical evidence. In fact, they come from people's perceptions of birds' behaviors and appearances. Additionally, this symbolic significance around birds is not universal. Some cultures may interpret a bird to be a symbol while others may not. This makes the actuality of symbolism arguably questionable. 
This isn't to say that symbolism does not have an impact on human consciousness. Of course, a person may not win a lottery if they see a certain bright-colored bird and they may not fall sick if they see a dark-colored bird. But these symbols serve as a reminder of inspiration, hope, and patience for people in their time of need. 
If you want to learn more about symbolism, check out the book linked below. Either way, continue reading ahead about what a yellow bird symbolizes. 

Grab this wonderful resource if you're looking into expanding your knowledge about signs and symbols!

WHAT DOES A YELLOW BIRD SYMBOLIZE?

In many cultures around the world, a yellow bird symbolizes joy and a positive outlook on life. For instance, in Chinese cultures, the song of the oriole to be evidence of harmony, happiness, and even stability in relationships. 
Additionally, a yellow bird also symbolizes a happy and healthy home life. People also believe that yellow birds help express psychological liberation and spiritual freedom. 
Across the world, the color yellow is associated with the sun which symbolizes optimism, energy, and joy. It may also stand for intellect and warmth. In a biblical sense, gold and yellow are often used to represent the presence of God and divine nature. 
Similarly, to dream of a yellow bird represents freedom and liberation from problems that you may be facing. It also signifies self-awareness and having no restrictions. 
While this symbolism around a yellow bird may not ensure that your life will change for the better if you come across one. It is definitely enough to inspire you to take charge of your life and be the agent of change. That being said, let's see what particular yellow birds signify.
WHAT DOES IT MEAN TO SEE A YELLOW WARBLER?
Yellow warblers are found across central and northern North America. They are round-headed with beady black eyes. Their bodies are yellow overall with a yellow-green back and unstreaked yellow underparts. 
Yellow warblers signify the wholeness of self. Their bright yellow color represents joy and happiness. However, yellow warblers are mischievous and sneak off like thieves to steal food from others. Thus, they represent the good and bad of the world. 
They teach us one of the most important lessons of life, "Embrace all of you and become whole."
PRO-TIP
If you fill out black oil sunflower seeds in your bird feeding stations, it increases the chances of a yellow warbler visiting you!
THE SYMBOLISM OF A YELLOW CANARY 
The yellow canary represents the animal mascot of the Canary Islands. They're monogamous birds whose reproductive season starts from early spring to late summer in different regions. 
A yellow canary is known for its bright colors, cheerful nature, and beautiful singing. In fact, male canaries attract females by singing loudly from the most prominent branches on trees. When they approach a potential mate, they perform flickering ritual flights. 
Thus, a yellow canary is seen as a symbol of family harmony and peaceful life at home. This is also because yellow canary offspring do not leave their paternal nest before flying to warmer regions during the winter. 
Moreover, yellow canaries are bred and domesticated for several hundred years. They're still very widespread pets because of their cheerful nature.
WHAT DOES A YELLOW FINCH SIGNIFY?
The most interesting thing about the grassland yellow finch is that despite its name, it is not a finch but a seedeater. It is a small passerine bird with a yellow body with black streaks. 
The yellow finch is a symbol of high energy and brighter days. Generally, the symbolism of the yellow finch is an indication of liveliness, enthusiasm, and energy in a person's life. Witnessing a finch may help people enjoy life and treasure every moment of joy in it. 

Grab this decor to attract yellow finches or to remind yourself of the good times!

A LIST OF YELLOW BIRDS TO KEEP AN EYE OUT FOR!
Certainly, yellow birds can spark feelings of joy and happiness in people. Their bright-colored presence represents the good in the world. Coming across a yellow bird can help people let go of the bad and inspire them to work towards the good. Thus, check out the following list of yellow birds to keep an eye out for!
The Yellow Oriole
The Green Jay
The Saffron Finch
The Cape Weaver
The Golden Pheasant
The Common Yellowthroat
The Evening Grosbeak
KEEP READING!

In many cultures, animals, plants, and colors are seen as symbols of something bigger and unrevealed. These symbols may be derived from appearance and behavior of the objects or the experiences attached to them.
This does not mean that symbols can change the course of your life. However, they can inspire you enough to be the agent of change in your life and help you in a confusing state of mind. 
Thus, seeing a yellow bird may feel liberating because they represent joy, high energy, harmony, and transcendence for a lot of different reasons.
This makes it known that symbols can have an impact on you. They can help you take charge instead of waiting around for life to change by itself. 
If reading on birds and what they symbolize interests you, you must check out this post about what barn owls symbolize!
By Iñigo Navarro
Bird Watching USA
My name is Inigo and I'm the the founder of Bird Watching USA! I started Bird Watching with My father-in-law many years ago, and I've become an addict to watching these beautiful creatures. I've learnt so much over about bird watching over the years that I want to share with the world everything I know about them!