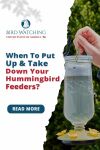 What's This Post About?
The hummingbirds are pretty and fascinating little creatures with long beaks and rapidly moving wings. The fun fact about hummingbirds is that they are the only bird species that can fly sideways, up, down, front, and backward. Interesting, isn't it?
Many nature-lovers are in awe of hummingbirds and enjoy watching these beautiful creatures feed on their feeders. This post will answer all your queries regarding hummingbird feeders and the factors that need to be considered when putting up or taking down hummingbird feeders.
Your feeders should be put up in spring and stocked throughout the early period of fall to provide food and energy. The feeders need to be taken down as soon as the first frost of the season is observed. However, location, climate, migration, and other temporary factors need to be considered.
What Are Hummingbird Feeders?

Hummingbird feeders are containers hung outdoors to attract nectar drinking hummingbirds. They are a source of food along with blooming flowers for these birds.
Hummingbird feeders vary in design, color, shape, and material. If we talk about the basic ones, then there are two types.
1. Dish Feeders
Also known as saucer feeders. These have a very basic and simple design. You pour the nectar in the saucer/dish beneath the feeding ports, then let the hummingbirds drink it.
2. Bottle Feeders
These feeders are made with a plastic bottle and can be made easily at home. The bottle is attached, upside-down, to a nectar-catcher with the help of a lid. As the birds drink the nectar (sugar syrup) from the catcher lid, the nectar from the bottle flows into the lid, making sure it does not go empty.
These feeders play a vital role in preserving these unique species. Birds who migrate late, young birds, and those who are not healthy enough may rely on your feeders as a source of food.
When Should You Put Up Your Hummingbird Feeders?

When hummingbirds return during the early spring period, they have to encounter the cold temperatures that are yet to fade. At this time, few flowers are in their blooming phase, and insects are not yet to be seen.
This lack of abundance of flowers and insects (their source of food) may leave the hummingbirds starved. This is when your feeder will be there to save the day. Your feeder can re-fuel their hungry stomachs and provide them with energy.
According to research, hummingbirds return to the same locations from which they had departed previously. The birds tend to form their territory and return to them in search of food.
Hummingbirds do not migrate together at once. Male birds arrive at their breeding grounds approximately two weeks before the females. They do this to occupy territories and food sources. This also includes your feeder.
Females then arrive after two weeks, creating and defending their nests from other hummingbirds. The two genders mate and stick around till the next winter season. Your feeder can then cater to these young birds during the late summer and fall seasons.
When Should You Take Down Your Hummingbird Feeders?

Till now, in this post, we have seen how your feeders are an essential food source for hummingbirds. Now the real question is, when should you remove your feeders, ensuring that you are not depriving the birds of food.
Certain variables should be considered when you decide to remove the feeders. Are you interested in finding out about them? Read below to learn about the factors that may help you in making this decision.
Climate
Climate changes can impact the migration of birds. In areas where the summer season is long-lived, and flowers can sustain for longer periods, providing food for the hummingbirds, you should take down your feeder. Hummingbirds will have other natural sources to rely on.
Location
If you reside in the northern regions, then you can bring down your feeders during early fall or late summers. Whereas, if you belong to the southern region, you might want to keep your feeder out longer.
This is because hummingbirds tend to stay in the southern area all year round and may need your feeders to live and sustain food from.
Migration
If you keep track of the hummingbird's migration period, you might easily be able to figure out the best time to take your feeders down.
Male hummingbirds, for instance, travel towards the south before the females. As stated previously, you can keep track of the time hummingbirds started to show at your feeder in the previous year and plan accordingly.
The previous year's track record can be a good indicator as hummingbirds usually mark their territories and return to the same feeders every year.
Temporary Reasons
It is important to make sure your feeders are clean and never empty. If you plan on cleaning and re-filling your feeders, you should take down your feeders between noon and afternoon.
The feeders should be thoroughly cleaned every few days to avoid molds or fungus from infecting the nectar. If the nectar is prepared beforehand, then you will only have to remove the feeder for a few minutes.
Hence, these factors should be considered when planning the removal of the feeders. It is also recommended that the feeders should be left up for two weeks after the last hummingbird is seen.
Do You Want to Know Why Hummingbirds Leave or Migrate?
Hormones play a role in the migration plan of the hummingbirds. When the daylight in fall and spring reduces in time, the hummingbird's hormones trigger them to travel to more secure and comfortable areas.
However, some hummingbird species in some regions do not necessarily migrate and may stay throughout the year.
Keep Reading!
Watch out for hummingbirds in your region and contribute towards a healthier environment. We covered interesting facts and information about when should you put up and take down your hummingbird feeders throughout this post.
With this information, you can plan out your actions before time without worrying about harming these creatures of nature. If you want to attract hummingbirds to your house, you should plant as many trees or flowers as possible.
It is not necessary to bring down your feeders for long periods. The statement that hummingbird feeders may stop hummingbirds from migrating is merely a myth.
Hence, if you want to offer food to migrating and non-migrating hummingbirds, then you can keep your feeders up for the entire year.
So, let's feed them, protect them and marvel at their grandeur. For more information, consider reading our amazing post about top hummingbird feeders:

Are you a hummingbird lover? Make this adorable little bird visit your garden by adding one of these top-rated feeders to your backyard.
By Iñigo Navarro
Bird Watching USA
My name is Inigo and I'm the the founder of Bird Watching USA! I started Bird Watching with My father-in-law many years ago, and I've become an addict to watching these beautiful creatures. I've learnt so much over about bird watching over the years that I want to share with the world everything I know about them!