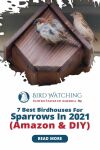 What's This Post About?
Do you want a birdhouse to elevate the aesthetics of your backyard or to attract specific species of birds? Either way, a birdhouse, also known as a nesting home, provides a secure environment for birds to make their home, shielding them from predation and the extreme climate.
In most situations, if you wish to lure a particular species, you'll need to construct or purchase a specific sort of bird's home.
Since house sparrows are plentiful and will breed in various locations, basic resources and even simpler layouts are required. House Sparrows are tiny birds that require small birdhouses.
Building a birdhouse for House Sparrows is one of the most uncomplicated and most enjoyable activities. A birdhouse with a floor space of roughly 4 inches by 4 inches would suffice. The height can vary between 9 and 12 inches. The entry hole can be as large as 32 mm in diameter, or about 1.2 inches.

Basics For a Sparrow's Birdhouse
House Sparrows have even been classified as 'invasive' birds.
House sparrows have taken over numerous birdhouses, according to everyone who is even somewhat interested in bird observing activities. Unfortunately, this accusation is correct, and building the right house for them, therefore, becomes imperative to deter them from crashing into other homes.
Before you build or purchase a birdhouse for a sparrow, there are a few things that you need to be mindful of. These are the basics that should be present; otherwise, you will not be able to lure a sparrow towards it or make it stay for long.
It should have a four-by-four-inch floor area at least

The minimum height required is 9 inches

High-quality material and thick walls

Slanted roof to keep the rain out

Holes at the bottom to expel moisture

A hinged roof that provides easy access inside if needed

Mandatory entry point

The entrance can be from 1.2 to 2 inches wide

The entrance should be 3 inches down, starting from the top

Sufficient air holes from top to bottom to provide proper ventilation

When choosing a house for sparrows, dimensions are essential. The home should be spacious enough to fit a sparrow and its future brood. However, it should not be so large that it gives easy access to predatory animals.
The size of the entry hole and the location of the birdhouse should be such that the sparrow does not feel threatened. However, the gap should not be so small that the feathers get damaged while moving in or out of the birdhouse.
Ensure adequate ventilation to keep the birds from overheating, particularly in summers. To eliminate the rain coming in and drowning the inhabitants, opt for a birdhouse with a moderately sloped roof or a cover.
If water has entered the birdhouse, draining outlets should be present to prevent water from accumulating.

Pro-Tip
Keep one of the roof panels or the front door detachable to get convenient access to the interior for cleaning and maintaining the house.
Remember that birdhouses, while providing a sturdy structure, are not the most comfortable. To assist your guest birds, you should give them nesting materials like lint, cotton balls, and thread. This help is critical during colder climates.
Warning
Do not place the material near the birdhouse as that might strike the eye of a predator. Always keep the material inside the birdhouse.
Seven Best Birdhouses for Sparrows
You may buy these birdhouses from Amazon or get inspiration to make your own. The decorative aspect is minimal, and more concentration is on the structure and functionality of the birdhouse for sparrows.

Crafted from Insect and Rot Resistant Premium Cedar with a Water-Based Protective Stain

Price: $24.67
This is one of the best birdhouses you will find for sparrows. It is simple yet sturdy and cost-effective. It ticks all the boxes covered in birdhouse basics above while not being too heavy on your pocket.
The birdhouse is built from premium cedar that is insect and rot-resistant and has a water-based protective stain.
The house's functionality is such that it is comfortable and secure for the bird itself and convenient for us to maintain. The front door is hinged so you can easily access the inside for cleaning and preserving purposes.
It has air vents that allow maximum ventilation for its residents. They have left a small space open a little above the entry hole. The best part is that the roof is slanted, which conceals this opening for outsiders that may attempt to exploit it.

Additionally, they have also added a predator guard that extends the entrance hole to protect the young against enemies.
The elevated mesh floor will expel any unneeded moisture while keeping the birds dry and relaxed. It comes with options to either flush mount or pole mount. All in all, this birdhouse can be the perfect space for the sparrows that visit your yard.

This 3-tier wooden birdhouse will add a sense of beauty and fun to your backyard and offer a safe and cozy home for your lovely feathered friends

Price: $29.96
If there is anything urban places lack, it's space. This 3 Tier Hanging Bird House is built to serve as an apartment. This design is space-efficient and accommodates three mating sparrows effectively.
Not to forget how beautifully crafted it is, which is an added advantage and will work as a decorative element in your yard.
The front plank of this apartment birdhouse has planks that serve a dual purpose. The layered effect coupled with the green color and metal leaf will help it blend into the garden and not strike predators' attention. The layers will also aid in preventing any accumulation of rainwater.

It has been built from premium quality metal and wood. It has a 4 by a 5-inch base and is 18 inches in height. All three panels have separate planks that are removable from the back for cleanliness and easy accessibility.

Designed with the look of a gothic castle, this unique birdhouse will be a hit with backyard birds

Price: $99.97
This birdhouse is more like a 'bird-castle' than a standard birdhouse, taking hospitality for fellow animals to the next level. This charming house, styled to appear like a gothic castle, will be a favorite with garden birds.
The aesthetics of this birdhouse is its most significant selling point, which also justifies the higher pricing. However, it serves more than just decorative purposes.
The turrets and dormers are only present to create a dramatic look. They have not made multiple entrances that might prove to be a hazard for the residents in terms of predation. There is a single entry at the back.
Like most good birdhouses, there is a separate trap door on the back to facilitate easy cleaning and maintenance. The dimensions of the house are around 11 by 8 inches, and it is about 23 inches in height. This can be mounted on a pole, but the mounting post is not included.

Made of premium natural material with exquisite handcraft, wooden birdhouse is sturdy and novel in shape.

Price: $22.99
This is one of the simpler models but just as useful. The floor area measures about 5.9 by 5.9 inches with an 8.6 inches height. The entry hole has a diameter of 1.57 inches. All dimensions are in sync with the basic requirements of a sparrow's birdhouse.
This natural wood structure is made up of premium quality material that makes it sturdy. This birdhouse can be nailed into a branch or any other suitable location. The roof is slanted, which assists in expelling rain accumulations.
This birdhouse is durable and will last you a couple of years without having to worry too much. The front door is nailed only from the top and has a latch at the bottom, allowing you access to clean the house. The best part, however, is the perch attached as sparrow love resting on it occasionally.  

This cute solid wood birdhouse will add a sense of beauty to your backyard and offer a safe and cozy home for your sparrows

Price: $24.13
This unique birdhouse can be rated as one of the best birdhouses in 2021 easily. It is different. It's lively and can both serve decorative and homing purposes. For the price and the elements it covers, this product is a steal.
This adorable natural wood bird home will give your yard a feeling of beauty and excitement while also providing a convenient and stable home for your animal friends. With the intriguing watermelon-shaped structure and natural appearance, it will blend effortlessly with the rest of the plants of your yard.
Pro-Tip
Hang it on the branch of a tree to make it look like it's part of that plant, making camouflaging easier.
Don't let the appearance deceive you. It may look compact and small but has a floor area of 8 by 4.25 inches which is spacious enough for a sparrow. The entrance hole also meets the minimum requirement as it is about 1.25 inches in diameter.

For easy cleaning, there is a removable cleanout panel at the back. This hole is slightly bigger than the entry hole and has a diameter of 1.5 inches.
6. DIY Singular Birdhouse
Sparrow houses are constructed similarly to bluebird houses, with a compact shape, entry slot, and movable door on one side for regular cleaning.

You can make a nesting box for sparrows with simply some wood, nails, a drill, and a saw if you want to invite them into your home.
Here are a few simple steps with which you can build the perfect birdhouse for your backyard.
|   |   |
| --- | --- |
| Step 1 | Purchase planks |
| Step 2 | Make markings to outline where you will cut |
| Step 3 | Saw along with the markings |
| Step 4 | Drill the entry hole |
| Step 5 | Drill drain holes |
| Step 6 | Make mounting holes with a drill. |
| Step 7 | Start assembling |
| Step 8 | Attach one of the sides with a hinge |
Invest in a plank. A single plank of wood can be used to construct a simple nesting box. Purchase a four-foot-long board with a width of one inch by six inches.
Warning
Avoid using wood that is less than 3/4 inch thick. It has the potential to bend and is insufficiently insulated to keep birds warm.
Draw numerous lines on the wood using a pencil and a ruler to outline where you'll be sawing to make the walls and rear of the nest box.

Mark the area where the sidewalls and base will be cut. The top of the nestbox's walls must be sloped to allow the roof to slant.

Cut along the markings.
Pro-Tip
Any saw will suffice, but a table saw, or circular saw will produce the finest cuts in the shortest amount of time.
Drill a hole for the sparrows to utilize as an entryway into the front portion of your nesting box. The best approach to make this hole is to use a power drill. For house sparrows, a 32mm opening is suggested.

Naturally, rainfall will find its way into your birdhouse. As a result, drilling a couple of tiny holes in the base section to enable water to drain quickly is a great idea.

Finally, before putting the parts together, drill few holes in the rear of the nesting box to attach it.

The roof should be attached with a hinge to make it moveable.

Pro-Tip
The hinge must be waterproof, like a brass hinge.
Sealing the walls with glue is at your discretion. Some often are in favor of it as it helps the birds during extreme winter climates, while others argue that sealing it will reduce ventilation.

You may or may not add nesting material to assist your bird.

Once the nesting box is complete, you are ready to mount it, preferably 15 feet above the ground.
7. DIY Compartmental Birdhouse
If you want to attract multiple birds, you can make a birdhouse with a concept similar to an apartment. The process of building the house will generally be the same except for a few changes. The size of the planks you choose should be such that each compartment has a 5-by-5 inch space minimum.
Each compartment must also have separate entry holes. Since the birdhouse is being built for a sparrow, it is recommended to add a perch outside the entry hole as they enjoy having it.
The roof again must be slanted to expel and avoid water from accumulating over the birdhouse. When building a singular birdhouse, one of the sides should be hinged.

In an apartment situation, this is not the case. Removing one side will expose more than one nesting house, which may not be needed. You must drill separate holes at the back of the birdhouse with movable planks for easy cleaning.
Pro-Tip
Decorate your DIY houses with colors that preferably allow them to camouflage with the rest of the garden. This adds to the aesthetic as well as saves the sparrows from potential predation.
Where Should You Place A Birdhouse?
The nest box placement is just as essential as the dimensions of the house. House sparrows tend to construct their nests near buildings. They generally make nests in cavities and crevices found in man-made structures, so locating nearby would be ideal.
The birdhouse should be positioned such that they are in the opposite direction of the prevailing winds. This means that birdhouses should face northeasterly as much as possible.

This is to protect the birds from extreme weather conditions. The direction of the birdhouse will be determined by the direction of the storming trend in your location.
Place the birdhouse amongst vegetation. This serves a dual purpose and protects the birdhouse from the harsh sun and conceals it from predators. Although the shade is not required, it is recommended considering it to attain some shelter from the intense late-afternoon heat.
Keep Reading!
Residents in regions with few trees will surely know that cavity-nesting species are barely seen on their land. For this reason, it is suggested that you either build or purchase birdhouses to invite sparrows into your backyard.
The birdhouse should have ventilation, entry points, and removable planks for easy cleaning. Bear these factors in mind while selecting your feathery friend's new home.
Since you are aware of how to arrange their shelter, read this interesting post to find out what they eat to assist them further.

Sparrows eat nearly everything, thus they are easily attracted. Read on to learn more about their favorite nutrients.
By Iñigo Navarro
Bird Watching USA
My name is Inigo and I'm the the founder of Bird Watching USA! I started Bird Watching with My father-in-law many years ago, and I've become an addict to watching these beautiful creatures. I've learnt so much over about bird watching over the years that I want to share with the world everything I know about them!