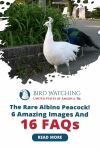 What's this post about?
Peacocks are beautiful creatures who can spread their feathers and show their mesmerizing beauty. Peacocks being medium-sized colorful birds have unique anatomy.
These all are the characteristic features of a normal peacock but have you ever thought if the same applies to Albino Peacocks? An albino peacock is technically referred to as a white peacock. These white peacocks are a genetic variant of Indian Blue Peafowl.
Albino Peacocks are white in color because they lack a certain pigment which helps add color to their feathers.The coloration in peacocks is mainly due to pigmentation groups that are melanin and porphyrins. Other than these, the structure of the feathers also contributes to the colors of the peacock.

All About Albino Peacocks
If you are intrigued by the appearance of a white peacock and wish to know more about them, continue to read on to discover answer to some of the most frequently asked questions.
1. Can an Albino Peacock Fly?
Normally, peacocks can only fly to a limited distance. The tail feathers of the peacock are up to 6 feet long. Peacocks run a few meters and make a few jumps before they make a final jump and fly.
Peacocks can only fly to short distances, like a rooftop or on a nearby tree branch. When you see a peacock run and jump, you will realize that it's about to fly and its feathers help add the extra boost in the flight. Their flying pattern is however peculiar to other birds.
2. How Rare is an Albino Peacock?
Albino Peacocks are very rare and to be sure that the peacock you're looking at is an albino is a difficult call to make. 
Albino Peacocks have red or pink eyes. This is because they have a complete absence of color pigments in their eyes, and their blood vessels are reflected in their eyes. Due to the absence of this said pigment, you may see white spots over their body or in other instances, completely white peacocks. 
Fun fact
Feathers of peacocks are called 'trains'. They can reach up to six inches behind their body.
3. What Do Albino Peacocks Eat?
Albino Peacocks are omnivore creatures. This means that they can eat both plant-based and meat-based diets. Albino peacocks eat fruits, grains, berries, small mammals, reptiles, small snakes, and insects as well.
They also like to eat ants, millipedes, crickets, termites, centipedes, locusts, and scorpions.
4. What Do Albino Peacocks Look Like?
Albino peacocks have a complete absence of colors in them. Their skin is very rough and pale. The white patches on the body of the peacock make them more visible to predators. For this reason, albino peacocks like to look for hideouts a lot.
DID YOU KNOW?
Peacock feathers are sometimes used along with decoration items. 
5. What is the Habitat of an Albino Peacock?
Albino Peacocks majority of the time can be found on the ground. In terms of habitat, they prefer living on farmlands and in forests where they can find warm spots to be in. Their preference is also impacted by the availability of food sources. 
6. What Makes Peacock Feathers Beautiful and Unique?
The feathers of the peacock have crystal-like structures. These structures make the feathers unique and beautiful. They have the capability of reflecting various wavelengths. These structures are crystal resembling structures. They are responsible for creating fluorescent colors.

7. Which Animal Gets Along with Albino Peacocks?
Chicken and Turkeys get along with both normal and albino peacocks. For this reason, you can set up a small farm in your backyard if that's a possibility and have all three together. 
8. Can Albino Peacocks be Kept as Pets?
Till several years ago, normal peacocks were only seen in zoos. However, over the passage of time, people grew fond of peacocks and started keeping them as pets in their backyards. 
Similarly, you could also pet an Albino Peacock in your backyard but for that, you would require an area in excess of 80 square feet of space.  The living space for them is essential to keep them healthy and better.
9. Which Climate is the Best to Keep Albino Peacocks?

Warm and tropical climates are preferred more than cold climates for the captivity of albino peacocks.
Peacocks do not need a warm climate to survive, but they need it for a high quality of life. 
10. How Can You Save an Albino Peacock From a Predator?
Albino peacocks are not tiny animals. They are big and can easily be spotted by predators. To save the albino peacocks from predators, you will have to keep a watch actively to ensure their well-being.
Moreso, for the protection of the albino peacocks, you can build perch boxes around them. If any predator comes near the peacocks, they will quickly fly into their perch box. Albino peacocks can also be kept in a cage or inside a fence for their protection.
11. What are the Nesting Habits of an Albino Peacock?
The chicks of an albino Peacock are yellow and have white wings. With time, these chicks grow completely white on maturation. 
Generally, a peahen lays 3 to 6 eggs. A peahen then incubates them for a month before they finally hatch out of the eggs. After three days of being hatched, the chick can finally fly a small distance.
January to March are the best months for the breeding of peacocks and for breeding, they nest in scraped holes in the ground.
DID YOU KNOW?
The tail of the peacock makes 60% of the length of the peacock.
12. What's The Average lifespan of an Albino Peacock?

Albino peacocks are wild creatures and can live up to 10 to 20 years. However, in captivity, they have been recorded to live up to 50 years.
The life expectancy of a peacock can rise to a great extent given that they have access to excellent food sources and that there are no predators around to harm them. 
13. What do Albino Peacocks Symbolize?
Self-esteem, sexuality, pride, beauty, refinement, knowledge, and self-confidence are traits and features that an albino peacock symbolizes. Albino Peacocks are also known for carrying the messages of God to people.
The feathers of the peacock are a symbol of good luck. They are often kept in houses to keep evil spirits away.
DID YOU KNOW?
A group of peafowl is called a 'party'. 
14. What Kind of Sound Do Albino Peacocks Make?
Peacocks make a rustling sound. They make sounds like a drumroll. You can also call their sound train rattle. The sounds made by peacocks create a vibration in the air, but we humans can not feel it.
Peacocks make this sound to attract their female counterparts for mating in the breeding season. Peacocks also honk when they need help. 
15. What is the Size of Albino Peacocks?
An average albino peacock is about 3—4 feet long. These are white peacocks with white plumage starting from its beak running all the way down to its legs. 
DID YOU KNOW?
Peacocks are not born with feathers. Their feathers grow after turning the age of three.
16. How Does an Albino Peacock Die?
Albino peacocks mainly die because of albinism. However, they also die soon due to attacks from predators including raccoons, tigers, and leopards in the wild.  Also, young chicks have the chance of getting an infection called Coccidiosis. This infection shows very little or no symptoms, but they die rapidly due to it.

Keep Reading!
Peacocks are associated with good luck. Due to this, they are often held captive and sold for high amounts. Peacocks, specifically Albino peacocks are friendly creatures. 
This blog post contains all the information about Albino peacocks and covers the most frequently asked questions about them. 
If you're an avid birdwatcher and wish to know more about birds, here's an interesting post you can read to identify 9 astonishing birds with big eyes. 

Have you ever come across birds with big eyes flying over your backyard? If so, continue reading to find out what birds have big eyes!
By Iñigo Navarro
Bird Watching USA
My name is Inigo and I'm the the founder of Bird Watching USA! I started Bird Watching with My father-in-law many years ago, and I've become an addict to watching these beautiful creatures. I've learnt so much over about bird watching over the years that I want to share with the world everything I know about them!